For over 50 years and 3 generations, the Metz family has been making sure that families all over the Central Jersey area enjoy the pleasures of outdoor and indoor leisure living centers for their homes. Central Jersey Pools, Patio & More has been providing families with quality recreational environments so that they can play together, stay together, and be safe together. Their commitment to leisure living comes from over 50 years of experience that began with in-ground swimming pools, spread to all facets of backyard entertainment, and now includes numerous products for indoor recreational areas. Before any family dives into a major pool, spa, patio furniture, gazebo, sauna, or game room purchase, they should visit the family at Central Jersey Pools, Patio & More and take advantage of their 50 years of experience and product knowledge.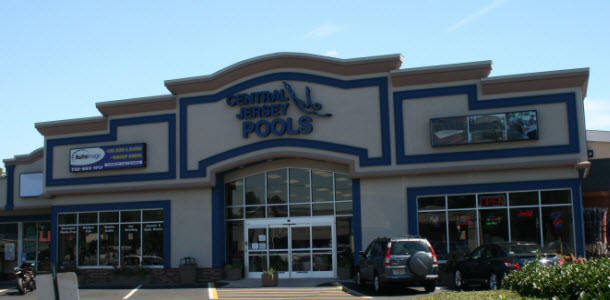 Central Jersey Pools, Patio, & More is a family owned business started in the early 1950s by David Metz. "The Central Jersey area was just beginning to experience the conversion of the local farms to the hundreds of housing developments that have been built" said David Metz, a former farmer himself. "New homeowners were moving to the area from New York City and from Long Island and began asking about swimming pools for their new backyards. So I learned all I could about pools and we opened the first swimming pool company in Monmouth County". In the early 1960s, Davids son Martin finished college and decided to enter the family pool business. "We soon decided to relocate the growing business from Throckmorton Street in Freehold to our current location on Route 9 North in Freehold, and built the beautiful modern showroom that we still occupy today" said Martin Metz. In the 1980′s Martin's oldest son Steven graduated college and joined Central Jersey Pools, Patio & More, where he had been working since he was 8 years old. About 10 years later, Martin's youngest son Michael graduated college and also decided to join the family business. Today Steven and Michael continue to run the company and talk about the future when the fourth generation of the Metz family will join Central Jersey Pools. When asked about the company's success and longevity Martin Metz said "I think there are three primary reasons why we have been successful in business for 50 years and 3 generations. First, we have always tried to offer the finest products in every category that we carry—Foxx in ground pools, Dimension One Spas and Cal Spas, Loop-Loc safety pool covers, Winston Outdoor furniture, Bio-Guard pool and spa chemicals, and Olhausen pool tables. Second, we have always stood behind everything that we sell and try to offer the finest service so that our customers keep coming back to us. We have one family that has purchased 5 in-ground pools from us as they moved from one house to another. Third, we have put together the finest team of management, sales, service, and warehouse personnel of any pool or spa company in Central Jersey. Many of our team members have been here 20 to 25 years and more, and we have several families with 3 or 4 members working together at Central Jersey Pools, Patio & More. This all adds up to one of our key slogans—Product, Pride, and Professionalism".
Today, Central Jersey Pools, Patio, & More has over 25,000 square feet of showroom and warehouse space, showcasing everything for your leisure living including: 3 in-ground swimming pools, 5 above ground swimming pools with decks and fences, over 45 spas, gazebos, saunas, a wide selection of outdoor and indoor casual furniture, as well as a full-line of pool tables, poker tables, bars, game-room supplies, and video games. Their 8,000 square foot chemical room features the Bio-Guard line of pool and spa chemicals, a complete line of Central Jersey Pools chemicals, a computerized water testing laboratory, a full line of after market accessories, and a huge selection of toys and games to make your pool and spa experience more enjoyable. Their pool and spa parts department are the largest in Central New Jersey. Their on-site warehouse stocks most items for immediate delivery and if they don't have it in stock, they can special order it, usually at no additional charge.
"We are constantly searching for new products to add to our leisure living centers" said Steven Metz, President of Central Jersey Pools. "We attend all of the national and regional shows for each of the product lines that we carry and try to bring the latest technology and state-of-the-art products into our store. Some of the recent advances that have become popular include wireless remote controls for all of the electronics in the backyard, salt generator chemical systems to produce chlorine for the pools, heat pumps that are much more efficient than traditional pool heaters, plasma TV's and surround sound systems for portable spas and outdoor rooms, and complete outdoor cooking islands and kitchens with DVD players, TV's, Sirius satellite radios, microwaves, refrigerators and anything else you can imagine in a backyard kitchen setting".
Central Jersey Pools, Patio, & More services the Monmouth, Ocean, Middlesex and Mercer County area with a fleet of radio dispatched vehicles and factory trained technicians. They service all types of pools and spas and offer every type of service; from complete pool and spa renovations to weekly pool and spa maintenance. Michael Metz, who is Vice-President of Central Jersey Pools and directs their service department, said "Naturally we warranty and service all of the products that we sell. In addition, we service and repair pools and spas purchased from other companies and do extensive remodeling projects on many pools that have been in the ground for 20 to 30 years and need a more modern look".